Zoom the image with the mouse
Have Questions? WhatsApp Us
Genuine Product Guarantee

Authorised dealer of brands we offer

In-House Experts

We know our products

Free Returns

Hassle free 7 day returns

Regionwide Delivery

Free shipping over AED 199
Easy Pull Food Processor - Zyliss
Dubai Shopping Festival Sale - Save 5%! + Free Shipping above AED 299*
Sale Ends Once The Timer Hits Zero!
(*) Discount will be applied at checkout, Use code GET5OFF.
(*) Discount is applicable for orders below 1000 AED only.
Zyliss has designed the Easy Pull Food Processor for those of you who look for simplicity and innovation in food...
customers are viewing this product
Zyliss has designed the Easy Pull Food Processor for those of you who look for simplicity and innovation in food preparation. This manual food processor allows you to chop, mix, blend and puree your food by a mere pull of its easy grip handle. Its blades function effectively to give you even and consistent results.
The Easy Pull Food Processor is time saving, compact and efficient. All you foodies, hardworking folks and those seeking an alternative, healthy lifestyle are sure to love this food processor.
Take a look at it in action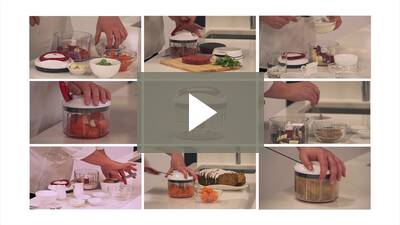 How to use the Easy Pull Food Processor
Fit the booster arm to the blades and insert into the base
Make sure that the blades are positioned one on top of the other
Pull the handle to the side to activate the blades
Vary the number of pulls for coarse, medium or fine results
Pull the handle 3-5 times for a coarse chop or 8-10 times for a finer chop
You can use the food processor to chop veggies and prepare dips, smoothies, soups and desserts
Features
Swiss patented twin blade design allows you to chop food with ease and consistency. Cuts through root vegetables and frozen fruits
Equally effective on large and small quantities
Booster arm gathers food for even chopping
Wiper blade and booster arm keep food in the path of the cutting blades for consistent results
Frees your kitchen from the clutter of multiple electric tools and gadgets 
Easy to use, clean and store
Prepare a wide variety of treats

The Easy Pull Food Processor lets you indulge in putting together a plethora of your most favourite treats. Here's a suggestive list of the versatile preparations you can make with this processor -
Veggies - chop and mince a variety of produce
Food - soups, mince for burgers, coleslaw, meat, fish, baby food 
Dips - salsa, guacamole, pesto
Drinks - cocktails, smoothies
Breads - breadcrumbs, a herb crumb crust
Desserts - cheesecake, ice cream
About the brand

Zyliss has over 60 years of experience in designing quality food preparation tools and gadgets. The brand's journey began in Switzerland in 1948 when founder Karl Zysset launched the first Zyliss product - a garlic press, a product that has since gained tremendous popularity worldwide.

Keeping consumer needs, changing lifestyles and cooking trends in mind, Zyliss designs products that are ingenious, reliable, functional, durable and delightful to use. Many of the brand's products have achieved the coveted Red Dot Award status. Zyliss's distinctive and appealing products are favoured by everyday cooks and gourmet chefs alike.